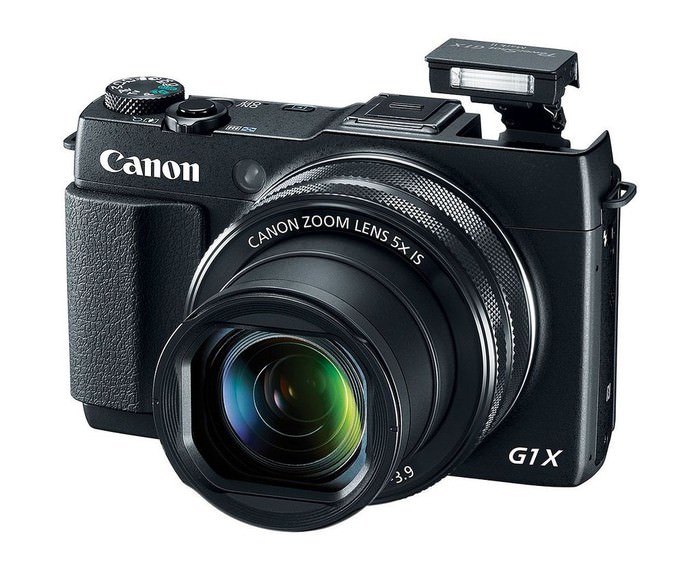 Canon corporation announced an update to it's Hi-End PowerShot lineup with G1 X Mark II. Lens gets higher aperture, processing is faster, capabilities of the device are wider. First announced in 2012 this high-end camera for those, who want simply push th button and get a picture of maximal quality, has got modern features and better characteristics.
This year's camera includes large ( 80% of APS-C) and amazing 1.5-type 12.8 Mp CMOS-sensor (18.7 x 14.0 mm) with multi-aspect shooting. This camera delivers DSLR-like performance and versatility from the body of a compact camera, it allows to take awesome images with a low amount of noise.
Creative images with smooth background blur will be easier to take, using a fast f/2-3.9, 24mm 5x zoom lens and 9-bladed aperture. Intelligent IS image stabilisation guards against camera shake. The PowerShot G1 X Mark II's 1.5-type sensor and DIGIC 6 processor ensure superb performance right up to ISO 12,800. HS System, combined with a bright f/2-3.9 lens, makes the most of available ambient light, for superb clarity and colour whatever the conditions. Intelligent IS selects the optimum optical Image Stabilizer mode from 8 options to reduce camera shake and blur.
PowerShot G1 X Mark II includes a 1.04M-dot 3-inch tilting touchscreen. All manual settings are available in every moment, customisable Dual Control Rings and intuitive touch screen for tailor-made handling. 14-bit RAW is the best for post-processing.
Camera has an integrated ND-filter to shoot the scenes where you want to dim the light and make exposure longer. HDR-mode allows capturing without tripod. Star-function will be respected by those who want to capture starry skies with ease allowing up to 60 secs of exposure.
Canon PowerShot G1 X Mark II shoots Full HD video with 30 fps. Wi-Fi и NFC open the way to manage camera, to share and backup images wirelessly.
G1 X Mark II will be available in April pricing about 800$. I would buy this :)
4548 views 8 comments
1 like